Hello Everyone
I hope it is back to normal for me now, I have had a month where I have experienced the highs and the lows that life kicks at you on occasions. I have lost three important people from my life this year and attended their funerals; sad sad times each one, losing my father-in-law so suddenly last week was very distressing and it seemed to cap off a god-awful time; my lachrymal glands have run dry!. I do not often wish for a year to end, as I feel life is very precious and it has to be lived to the full... but I will not be too despondent to see the back of 2012.
I shut myself away this week, sometimes you do not want to talk to anyone, but I am slowly emerging from the darkness... sitting at my craft desk with no motivation to make anything was painful, but I played and moved things from here to there and then from there to here, picked up things, put them down again, walked away, had a cup of tea; (a life saver)..It worked and I finished Flags No6 and No7.
Challenge: 12 Tags of Christmas - Funkie Junkie Style.
It was hard making up this Flag with the word JOY being so obtrusive, but it had a positive effect, as the design came together well.
This is Linda's Tag (No 6)
My inspiration was her mesh ribbon, the word JOY, the inked bow and her bg script.
I always start my flags off by applying the trims, inking up the bg, stamping a design or adding a die-cut, then running it through the Big Shot choosing a suitable design; this one as you can see is the Holly.
I then add the inspirational elements to my substrate.
This is Linda's Tag (No7)
What caught my eye immediately on this one was the Red sentiment, the reindeer and the corrugated cardboard.
All my inks are distress or the stains.
Here on the bg I added a metallic Gold.
My (25) was finished with some glossy accents.
The reindeer was cut on the cricut, run through an embossing folder and inked up.
The Holly flourish is Cheery Lynn and to add texture on the leaves I painted them up with distress crackle.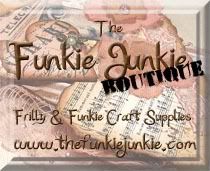 I love the overall effect of this one, it has movement and all my favourite products that create the texture.
If you would like to join in this fun Challenge, then hop over to
The Funkie Junkie.
One of the requirements to qualify for the drawing at the end is that you must have entered each of the 12 weeks and all must be completed by midnight on December 17th. Tags are quick and easy so what are you waiting for?
Have a great weekend.
Smiles:)
Sue
The Boutique