Hello again everyone.
I have finished off my next Flag, for the
Challenge: 12 Tags of Christmas - Funkie Junkie Style.
I am catching up slowly, this is No5.
Noel was cut on the Cricut, and painted up in Red and Gold Metallics.
Random inking over the Bg.
Next the music was stamped in Black Archival Ink.
Also dry embossed with two different texture fades.
TH distressed doily, painted up in metallics and embossed and applied to the Bg.
Half a Rosette along with the foil circle and gold element added more dimension.
Linda's Tag:
The word NOEL, the music text and the filigree element was my inspiration.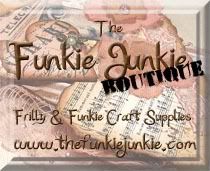 Sponsor
If you would like to join in the fun, see the rules here.
Smiles:)
Sue